ADRIFT

A distress signal?
But there should not be any signals out this far.

A cry for help.
But there are no signs of life.
Will you?
But there's no option but to at least try.


You knew the rules of interstellar salvage when you signed up.

And you very well know the most important rule of all: leave none behind.


ADRIFT, an award winning game.
Created by Quinn Crossley and Andrew Connell.
Presented by Jennifer Ann's Group.
---
Parent Guide for ADRIFT
We hope that this free Parent Guide for ADRIFT will be helpful for parents everywhere who want to talk with their kids about the meaning and importance of consent.
ADRIFT Parent Guide (Front)

ADRIFT Parent Guide (Back)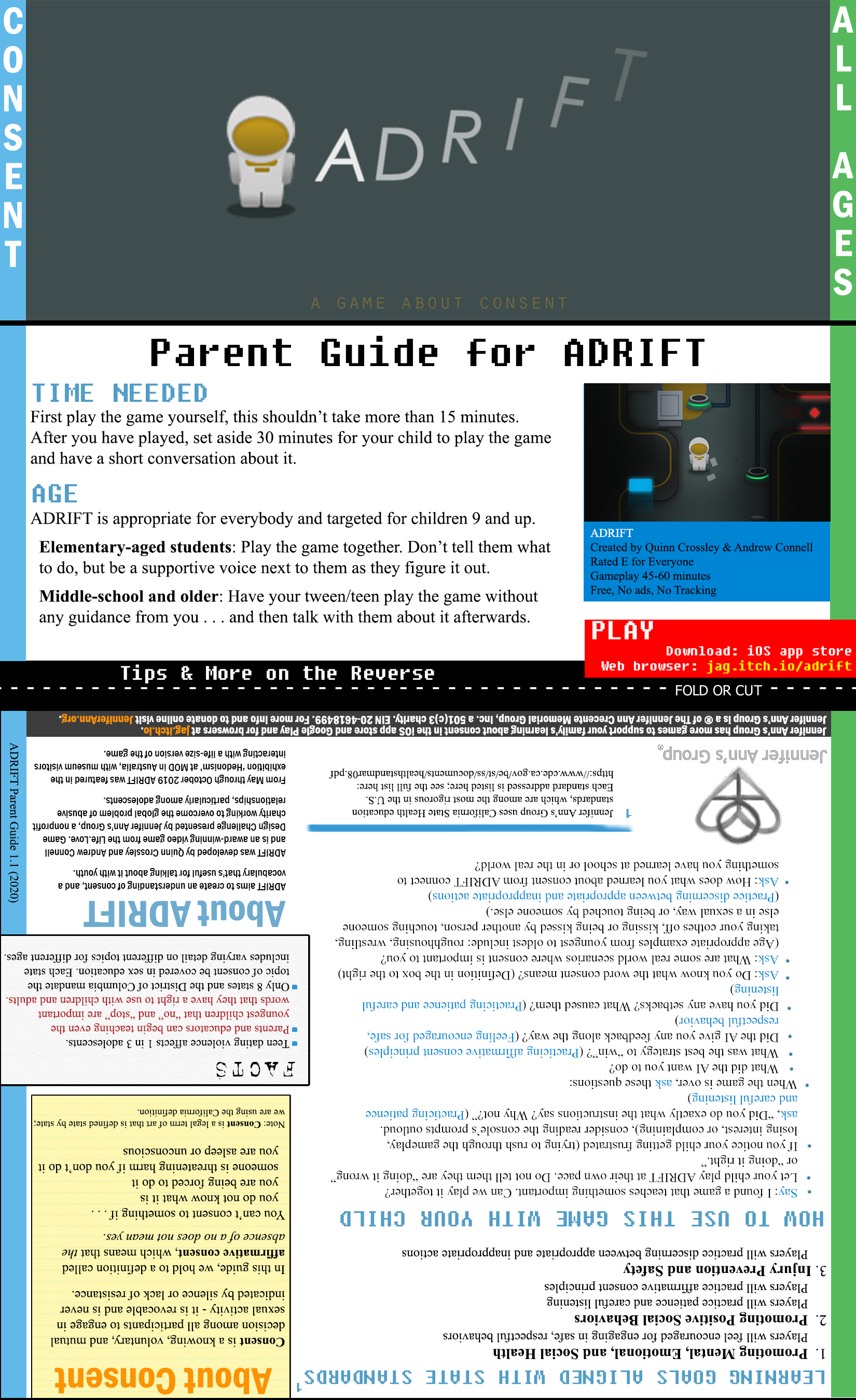 Print-n-Fold Parent's Guide for ADRIFT
---
About ADRIFT
ADRIFT was developed by Quinn Crossley and Andrew Connell and is a winning video game from the 2017 Life.Love. Game Design Challenge presented by Jennifer Ann's Group, a nonprofit charity working to overcome the global problem of abusive relationships, particularly among adolescents. From May through October 2019 a life-size version of ADRIFT was featured in the exhibition 'Hedonism' at MOD. with museum visitors interacting with the game.

| | | |
| --- | --- | --- |
| Development | Quinn Crossley | @quinnytown |
| | Andrew Connell | |
| Produced by | Jennifer Ann's Group | @stopTDV |
| ESRB Rating | E for Everyone | Pictures or sounds likely to be scary (Rarely) |
---
About Jennifer Ann's Group
Since 2008 Jennifer Ann's Group's Gaming Against Violence program has produced more than fifty serious video games about serious issues. Previous video game topics include bystander awareness, consent, healthy relationships, and teen dating violence prevention. This award-winning approach to violence prevention is evidence-based and the games are available for use in university studies. Please contact Jennifer Ann's Group to discuss research opportunities.
Jennifer Ann's Group is named for Jennifer Ann Crecente, a high school senior killed by her ex-boyfriend. The nonprofit charity was created by her dad in her memory.
More information about Jennifer Ann's Group is available at JenniferAnn.org.
Also available on