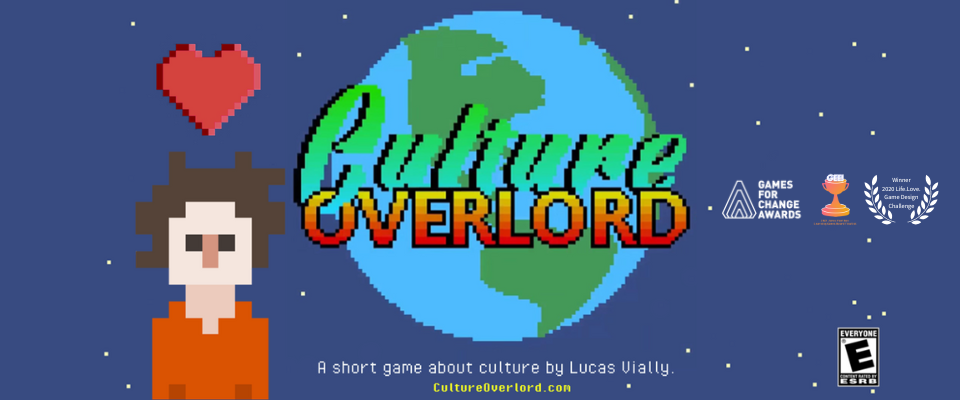 Culture Overlord
Follow up: Games for Change Awards
---
2022 Games For Change Festival
We are so pleased that Culture Overlord was featured at the 2022 Games For Change Festival in NYC. Although Culture Overlord did not win at the Games for Change Awards ceremony it was such an honor for it be a Finalist for "Best Learning Game." And it was wonderful to have this opportunity to share Culture Overlord with the many attendees at the 2022 Games for Change Festival.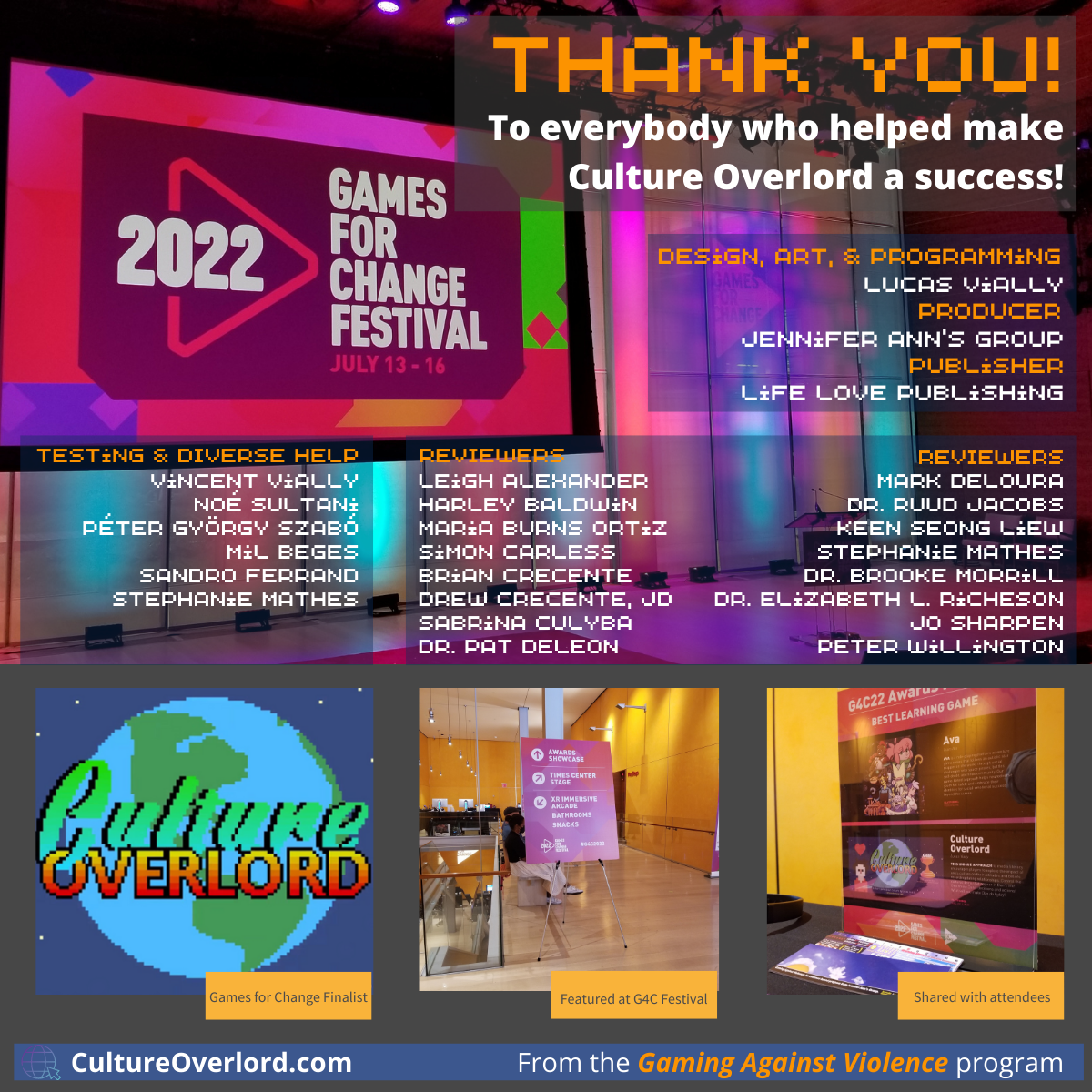 We believe that the unique game mechanic used in Culture Overlord is a fascinating way to drive the game's narrative -- and at the same time provide the game players with an opportunity to consider the real-world impacts of the seemingly inconsequential decisions we make every day. Our hope is that Culture Overlord is a game that will continue to grow over time. We will collaborate with experts in the fields of media literacy and news literacy in order to make Culture Overlord a reliably great resource for students, parents, and educators.
Thank you to the team!
Congratulations to Lucas Vially for the game design, the funky pixel art, and all of the programming using Ren'py. And thank you to Jennifer Ann's Group for producing Culture Overlord through their award-winning Gaming Against Violence program -- and to Life Love Publishing for publishing and marketing the game.

We also want to thank the many testers, reviewers, and general helpers who contributed to the success of Culture Overlord. Thank you to:
Leigh Alexander
Harley Baldwin
Mil Beges
Maria Burns Ortiz
Simon Carless
Brian Crecente
Drew Crecente, JD
Sabrina Culyba
Dr. Pat DeLeon
Mark DeLoura
Sandro Ferrand
Dr. Ruud Jacobs
Keen Seong Liew
Stephanie Mathes
Dr. Brooke Morrill
Dr. Elizabeth L. Richeson
Jo Sharpen
Noé Sultani
Péter György Szabó
Vincent Vially
Peter Willington
Thank you players!
And thank you for playing Culture Overlord! Please share Culture Overlord with your friends and family - and please share your ideas with us about how we can make this a more effective game. We'd love to hear your constructive feedback. We're also eager to hear about how Culture Overlord is being used in classrooms and at conferences.

Thank you for your creative ideas and your support. Most of all, thank you for your belief in the power of games to make the world a better place!